Text: Laurent Fintoni
Photos: Courtesy of Triston Palma
Triston Palma knew he wanted to make music from early on. Born in 1962 in the Waltham Park area of Kingston, Palma was living on Delamere Avenue with his mother when he first realized music was something he wanted to do. His early memories are of hearing the band that would become the Soul Syndicate, one of the most in-demand session band in 1970s Kingston. Their guitarist, Tony Chin, gave Palma his first break. "Sugar Minott and dem, Soul Syndicate, Dennis Brown, they used to be on the corner," Palma says, speaking from his home in Kingston. "I used to sing as a yout so I just started doing harmonies for Sugar Minott. That's where I come from. They teach me one and two likkle tings, and from there I just take off."
The 1970s were a boom time for the Jamaican music industry with local and international interest fueling the demand for records. Palma's first recording as a solo artist was in the early 1970s, a track called "Love Is A Message" for Bunny Lee, one of the producers who drove reggae's international success. From there Palma set up his own label, Black Solidarity, alongside close friend Ossie Thomas. It launched in 1979 with "Spliff Tail" the first of many songs by Palma that would hit number 1 on the Jamaican charts.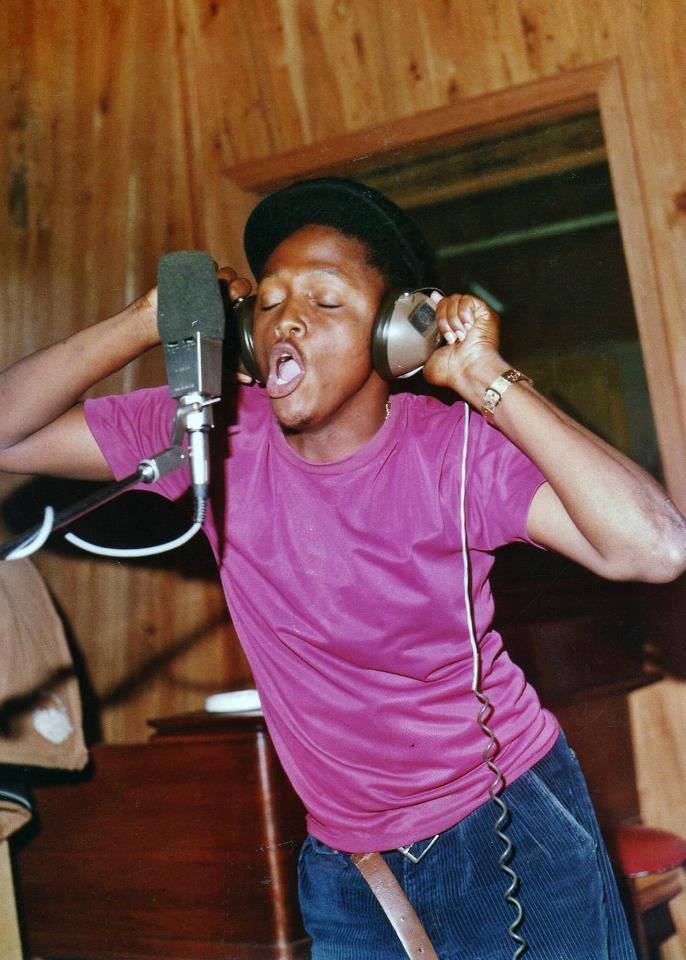 The next big change for Palma came in 1981 when he met a producer by the name of Nkrumah "Jah" Thomas, who had heard of the singer while in England. Thomas drove to Palma's house and took him straight to King Tubby's studio in Waterhouse to record what would become "Entertainment". "That tune win a soundclash for Kilimanjaro," Palma recalls. The song also became the title for an album, produced by Thomas and fronted by Palma and from there the two started a short and prolific collaboration.
In 1982, the still baby-faced Palma fronted Show Case (In A Roots Radics Drum And Bass), another album produced by Thomas and recorded at Channel One Studios. That same year the pair released Joker Smoker on Greensleeves Records. "Jah Thomas write the songs, he was a DJ, he was the one producing," explains Palma. "We sit down and put it together. At the time we would write songs in not even an hour." Ideas for songs and for Palma's performance depended "on the mood I was in, the feel, yuh know, when I start listenin' the riddim."
Palma released some 15 albums and dozens of singles in the first decades of his recording career, collaborating with a who's who of the Kingston scene. As he recalls it, the work with Jah Thomas was some of his favorite as the two young men found the perfect groove.
In December this year, Dub-Stuy Records will release the first official remix of "Joker Smoker", the title track from Palma's 1982 album. Produced by young Californian Dubamine, the remix came about after Palma had voiced a dubplate for the collective. "I say to them let us hear it and when I hear it again it was a dub ting," Palma explain. "So I ask them to send it back to me, let me revoice it, let it sound like a record. I love the riddim."
After more than 40 years as a singer, and producer, Palma continues to work to this day from his Kingston studio, Star Creation, as well as performing in Europe and America. "That's my life, I can't stop," he admits. As for what the music around him is like today, he says he keeps his ears open and likes some of what he hears. "I'm just listening, watching, if I can guide a yout I will you know."
You can listen to Dubamine's relick of Joker Smoker below and and pre-oder here.