Text: Seb Carayol

Inside one of London's main dubplate studios there are no singers rushing to record 'specials,' but instead music genres yet unknown in Jamaica. From Jah Shaka to Ninjaman, it is a place rich with tales. Seb Carayol took a look at a regular day at Music House back in 2006.
"Cho man, this is useless, all your tunes sound the same!" The scene is happening in 1995 in the dubplate studio Music House, based at the time on Holloway Road in London right next to The Rocket club. A young Jamaican singer is getting annoyed. Fresh off the boat, he has to record with a band and has yet to learn about the subtleties of English dubplate culture. The recipient of his frustration is none other than Steve Mosco, owner of the sound system – and future label – Jah Warrior. It's hard to explain to some like this singer that in the UK dub still exists stronger than ever, and that roots sound systems will happily record four or five different cuts on the same riddim. It's understandable to be confused by such local touches.
Rescue comes in the shape of Sugar Minott, who just turned up with the Youth Promotion crew. "Calm down my youth. And you Jah Warrior, keep on with the dubs, you're going to kill lots of sound with those!" If Sugar says so… end of the argument. Another story among many others: Barry Brown, over in the UK with the King Original group, singing in rags and without any shoes; Jah Shaka requesting that the doors of the studio be locked when he worked on his dubplates. Life as usual at Music House, the most famous London dubplate studio, in operation since 1985, but not the only one. In 2006 there is still Jah Tubby's, Liquid, and Heathmens.
The lifeblood of the sound system scene, it is within these spaces that special recordings are crafted to be tested in the dance (dubplates), or where existing songs are reworked with new lyrics according to which sound will be clashing on the night (specials). Not many people come down to Music House anymore for these, however. The days when Mike Brooks would hang around all day are truly gone. Voicing now happens elsewhere, in studios built solely for that purpose.
According to Chris Hanson, Black Slate's guitarist and band leader, this change was inevitable. "We used to record vocals in mono, straight onto the dubplate. The sound was pretty terrible, so we stopped." Of all the vocalists who passed through the door on Holloway Road, if Chris only had to keep one, "It would be Ninjaman without a doubt. The best dee-jay, an instant vibe. He wasn't vulgar or violent." And that's the end of the 'everything was better before' digression.
The lack of singers is not the only thing that has changed at Music House. Its location has changed for one. Today it is located in Tottentham Hale, North London. You have to go around the train station and head onto Millmead Road, a street littered with scrap on all side, before reaching Millmead Industrial Estate, a long driveway filled with rectangular red-brick factories.
You'll find Music House in Unit 64, an anonymous 'factory unit' stuck between a mechanic and a small café for starving workmen dishing out all-day breakfasts, lined with pictures of baked beans and peas to convince the undecided. High-end dining concerns aside, you have to make your way through the parked cars in front of the unit to dive into the heart of the matter. Music House. A line of small carpeted cells with no windows and in need of organization. Up until a month ago, the studio was set up on the first floor. Only one of the cells, on the left as you enter, is being used for now. It's where the antique and majestic German-made dubcutter resides, surrounded by empty Transco boxes.
Visitors are greeted by the sound of house music, which might leave them a little bit confused. Ninjaman? Barry Brown? Gone along with the voicing studios. This is also how Music House has changed.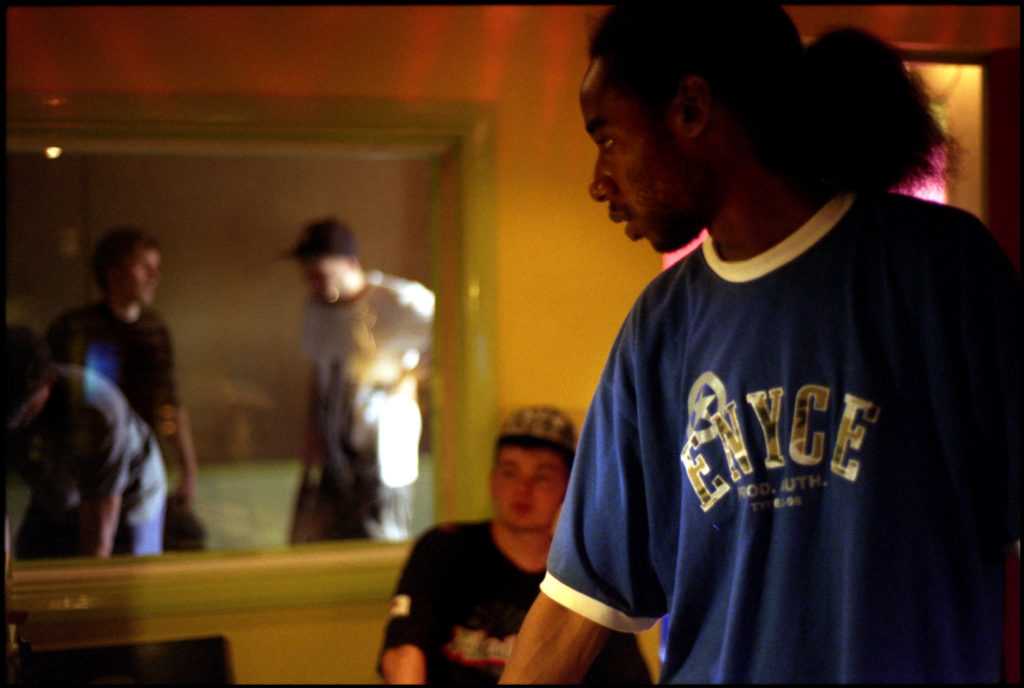 Leon, 30 years old, sporting an Enyce T-shirt and ponytail, has been working here as an engineer for 10 years and is waiting on his order of blanks – the fragile acetate discs that will soon be cut. He can, therefore, spare a few precious minutes to talk. His father, Paul Chue, is a well-regarded producer on the UK roots circuit and is today at the helm of the pressing-factory side of Music House, based somewhere else in London. Paul is especially known by collectors for running the labels Fu Manchu (which released Vincent Taylor's "Jah Children," a classic Jah Shaka tune from the 80s) and Riverbank. Leon grew up around reggae, which he still enjoys, but like many children of Jamaican immigrants, it was only when he discovered jungle and drum & bass that he really became interested in music. And he isn't the only one. Over the last ten years, a new generation of producers has rushed to get their acetates cut here. This is a particularly English tradition. It would be very strange to hear house music at Arrows Studio in Kingston…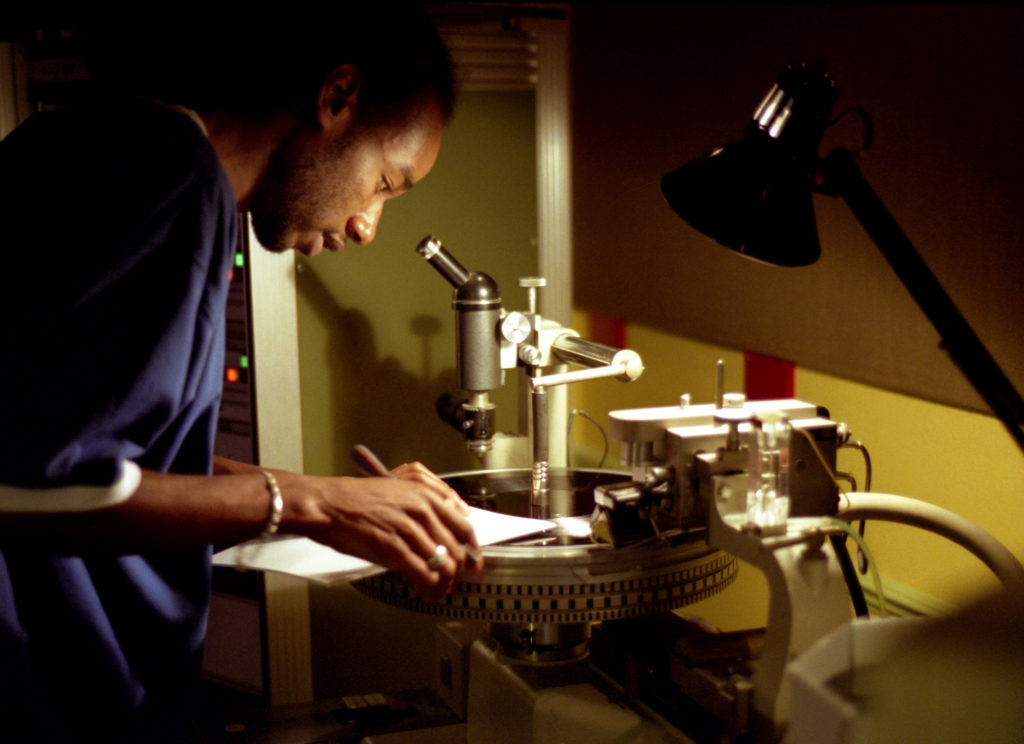 But should one necessarily lament the decline of traditional reggae in these historical spaces? It depends. This blending of genres has given its particular style to the mutant sound called UK dub. It's digital but still conscious, with a touch of electro. For example, on the day we visited Leon started by cutting on acetate a house tune for a young English producer – pale white, football trackies, cockney accent, and Bluetooth receiver stuck to his ear – who was eyeing his soon to be dance-floor killer with attention. After that, Leon worked on some apocalyptic dubstep beats – the new London craze – brought in on CD by two Finns. Listening carefully to these tunes were Keety Roots – the producer of one of Aba Shanti's favorite tunes, "African Blood" – and Tena Stelin, who had just come through the Music House doors. At the end of the second cut, a shaken and surprised Keety goes up to one of the young Finns:2 "Mad tune, man." This is how a rootsman will absorb, sometimes without even wanting to do so, these very British influences.
Chris Hanson shrugs when this interesting point is brought up. "We've been here for a long time, and we will go on as long as the demand is there. The record, both vinyl or acetate, is an old art form that is not going to die anytime soon. Playing a record is a different vibe to playing a CD. It's a stronger feeling. Records will find their niche, which may be smaller, but will be faithful. A lot of reggae sound systems still come here to cut their dubs, Jah Shaka, Channel One, Aba Shanti, and even Mighty Crown. They are the only one[s] to play dubs as they are. Artists from other scenes such as jungle or electro generally see acetates as a first step in making stampers before pressing records for release."
Next to him, Leon examines with a magnifying glass the grooves of the dub he just finished, unscrews the disc from the belt, and carefully writes down the date and the producer's details. Meticulous movements repeated a thousand times over.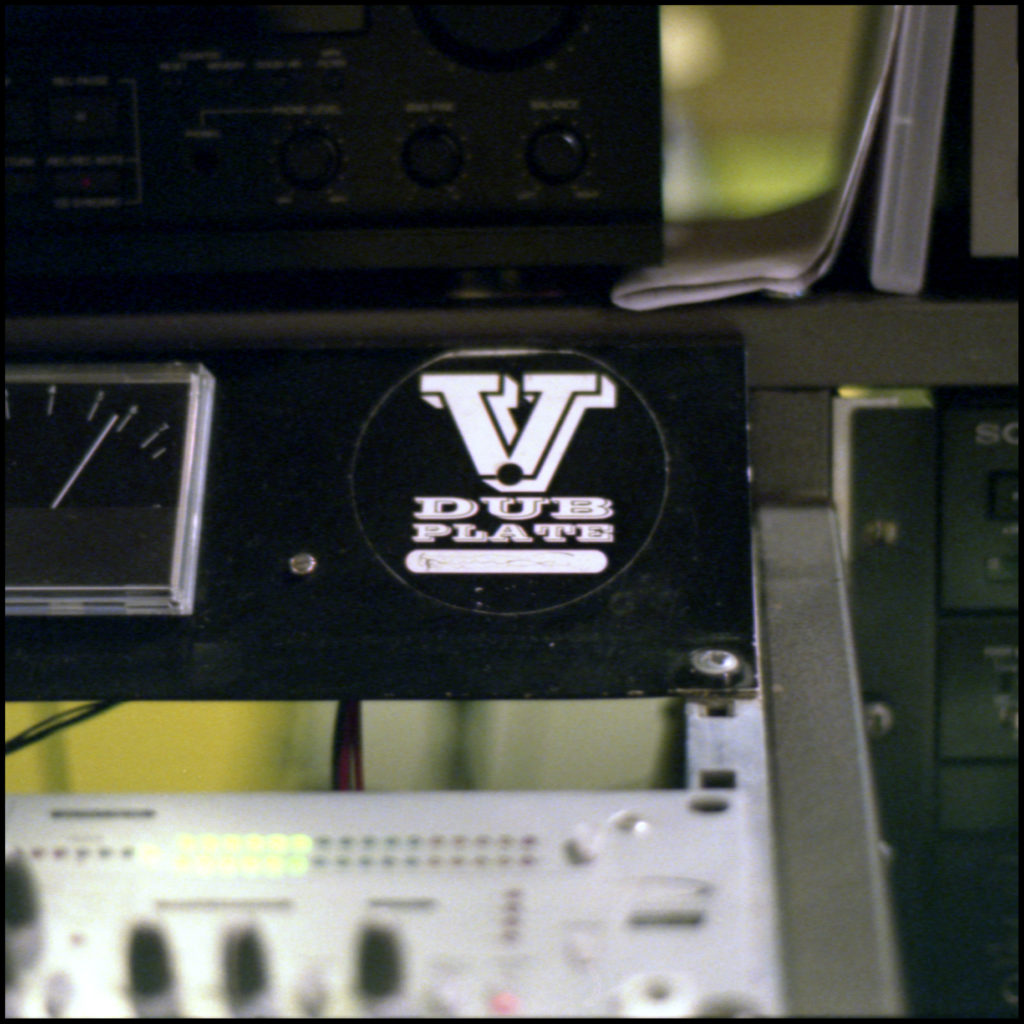 Having adapted to its environment and to the demand, Music House is always at full capacity from midday onwards, every day of the week. It gives some weight to Chris Hanson's argument that in London 'traditional dubplate maker' is not yet part of the trades of yonder that soundmen granddads tell their grandkids about.