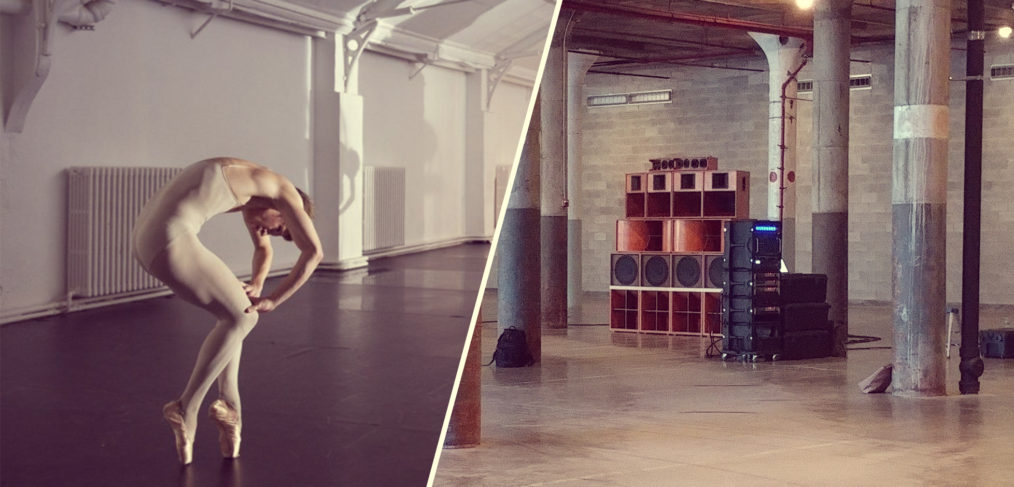 Dub-Stuy Sound System at Dia:Beacon in May
The Dub-Stuy sound system will be at the contemporary art institution Dia:Beacon as a backdrop for a multi-part dance performance throughout the month of May.
Continuing Dia Art Foundation's long-term commitment to supporting performance, Dia has commissioned Paris-based choreographers François Chaignaud and Cecilia Bengolea to develop a multipart program for Dia:Beacon. Over two weekends in May 2017, the program will trace the trajectory of the artists' twelve-year creative partnership. Each performance will include three consecutive episodes, transitioning through the layered references that inform their collaborative work—from the musical structures of polyphonic singing, through the transcendent dance of Sylphides (2009), to the recent ensemble work Dub Love (2014).
The program will be staged in Dia:Beacon's lower-level gallery. Evoking the industrial architecture of this former factory space, the work will be textured with echoes of alternative art scenes and spaces that have influenced the artists. In the program, Chaignaud and Bengolea, along with Erika Miyauchi and Alex Mugler, will use their bodies as musical, visual, and kinetic objects.
Each three-part performance will begin with traditional Georgian vocal polyphony, a musical format embracing shifting melodies and dissonant rhythms that Chaignaud has studied for the past decade.
This musical episode will lead into Sylphides, a work that positions the body as living sculpture and references the mythic figure of the sylph, described by sixteenth-century philosopher Paracelsus as invisible beings of the air. The reference also provides the inspiration for the well-known twentieth century ballet Les Sylphides. In Chaignaud and Bengolea's Sylphides, dancers perform inside of specialty sensory-deprivation latex bags, breathing through an air tube.
Finally, in Dub Love, the artists' explore their interest in the commonalities and divergences of musical and physical forms. In Dub Love, the four dancers perform en pointe to a live DJ mix of reggae and dub songs emitted from a large-scale sound system. Installed by Brooklyn's Dub-Stuy collective, this iconic speaker tower serves as an acoustic sculptural installation in the gallery. The choreography highlights a diversity of movement, from the religious dance of Candomblé to urban dancehall, alongside the extreme physical contortions of ballet.
Chaignaud trained in dance and music at conservatories in France, and Bengolea studied philosophy along with anthropological and modern dance in Argentina. In 2004, the two met in Paris through a mutual interest in labor activism for sex workers' rights. Since then, they have developed a daring practice that is as rigorous as it is inventive and playful. Calling upon a diverse vocabulary, their choreography combines classical forms with contemporary references while reflecting their radical politics and cultural associations. Their practice is well-known for bringing together singular mixes of ballet, modern dance, and choral singing with dancehall, dub, voguing, and other influences drawn from club culture.
For information, time and dates of the performances and more, please visit the Dia:Beacon website.