News & Culture
Arising out of the increasingly slack dancehall scene found in mid-80s Jamaica, the Punanny (also spelled Punaany and Punany, amongst other possible iterations) riddim is a much-versioned up-tempo digital shuffle.
Read More

›
Every Saturday night from 1987 to 1999, London's roots fans would tune into Kiss FM pirate radio for a weekly show by the Manasseh crew, which went deep into the early hours of Sunday morning. When the legendary station celebrated its 25th anniversary in 2010, Seb Carayol spoke with the main characters behind Manasseh's show to look back on their musical saga.
Read More

›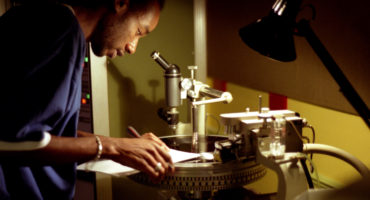 Inside one of London's main dubplate studios there are no singers rushing to record 'specials,' but instead music genres yet unknown in Jamaica. Seb Carayol took a look at a regular day at Music House back in 2006.
Read More

›