Images: Courtesy of Feminine Hi-Fi

Despite its messages of peace and unity through sound, sound system culture remains dominated by men – from operators to DJs, dancers to artists. In Brazil, one collective is aiming to change that and bring about a more equal and representative image of the culture and music.
Feminine Hi-Fi was founded in March 2016 in São Paulo as a musical project that could help empower women within the local reggae and sound system scenes. Its founders – Lovesteady, I-Pisces, Laylah Arruda and Rude Mamma – have been journalists, musicians and teachers and decided to use their decade-long experiences to spread a message of resistance to oppression and empowerment for women. They quickly made a name for themselves and found that music – selected from their personal crates and spanning all eras – was a perfect vehicle for the message.
We spoke with the crew via email to find out more about their origins and how their ongoing work within the local São Paulo community.
---
What are the origins of Feminine Hi-Fi?
We've individually been active in sound system culture for about 10 years. We started Feminine Hi-Fi not as a sound system, but as project and a collective. We started as a source of strength to empower women and a tool to not feel isolated in the worlds of art and music. We see sound system culture as not being traditional and free from social labels or traditional standards imposed by society. We do not need glamor or follow commercial standards of beauty, body or hair. Sound system culture is a more realistic culture, where we are more heard than seen. In addition, we bring inspiration from the local Brazilian scene, where there is great diversity of sound systems, each with their own personality, strength and style of sound. We find in this culture the freedom to express ourselves and to exist in our own way, without labeling. We play for all people, of all ages and genres. With respect, everyone's totally welcome.
What sound systems have influenced and inspired Feminine Hi-Fi?
The whole history of sound systems inspires us daily. From the Jamaican pioneers, like Trojan or Downbeat, to the U.K. sound systems like Channel One, Jah Shaka, and on to the contemporaries. Everyone has a different story, a different path, but it all leads to the same love: music made and inspired by Jamaica.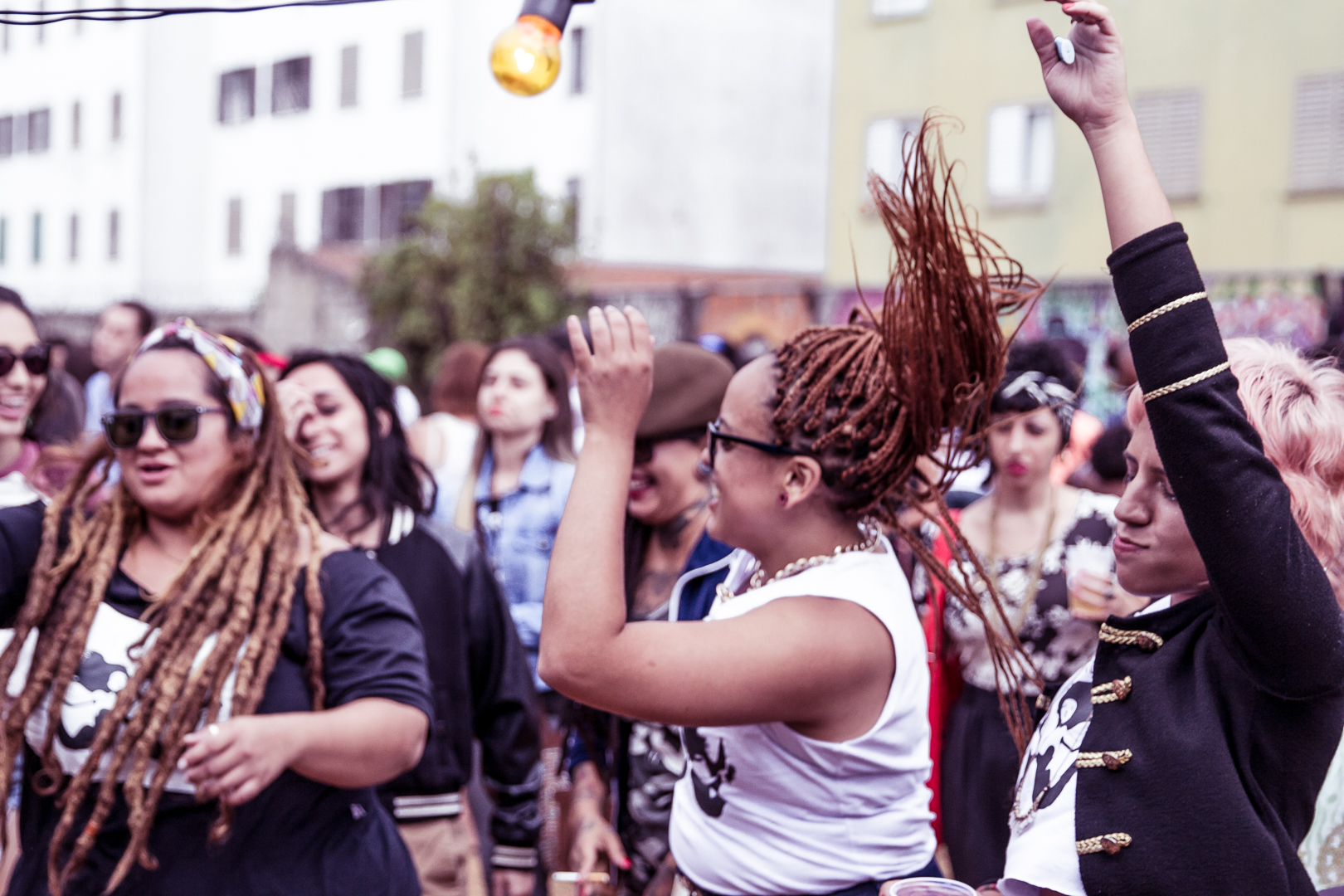 What is Feminine Hi-Fi's place in Sao Paulo's sound system community?
Today, we occupy a space that was previously non-existent. Despite the few opportunities we had before with the odd sound system and producer, our work is seen differently by the community. Since starting the project, we've seen doors open, not only for our crew, but especially for women in general, which is our main goal. We are currently working with sound systems partners, and we're planning to build our own system in the future. At the moment, we are focused on strengthening the space we have in the community and to also inform, prepare and engage women for an equal participation in the local scene. Since starting Feminine Hi-Fi we've done official street parties, working in partnership with local sound systems, and we have also travelled to festivals and elsewhere in the independent culture circuit in Brazil.
What role does gender play the work of Feminine Hi-Fi?
Sound system is an environment controlled by men, not only here, but worldwide. Specifically in Brazil, we had a lot of difficulty fitting in. And yes, our gender was linked to that. Moreover, the struggle for equality between men and women in all sectors of society is real. We are still far from equality, and therefore gender equity is not only important, it is essential.
What is sound system culture in Brazil like today?
Sound system culture is still new here in Brazil. It all started in the 1970s from Maranhão, a Brazilian state that pioneered in the inclusion of Jamaican culture in our country. Sound system culture remains concentrated in the northeast region. The culture, in the context of the work we do as Feminine Hi-Fi, is just over 15 years old and began to take its first steps here in São Paulo with Dubversão Sound System. It is a young scene, but it is evolving really fast. We have much to learn yet, but the evolution is visible and continuous.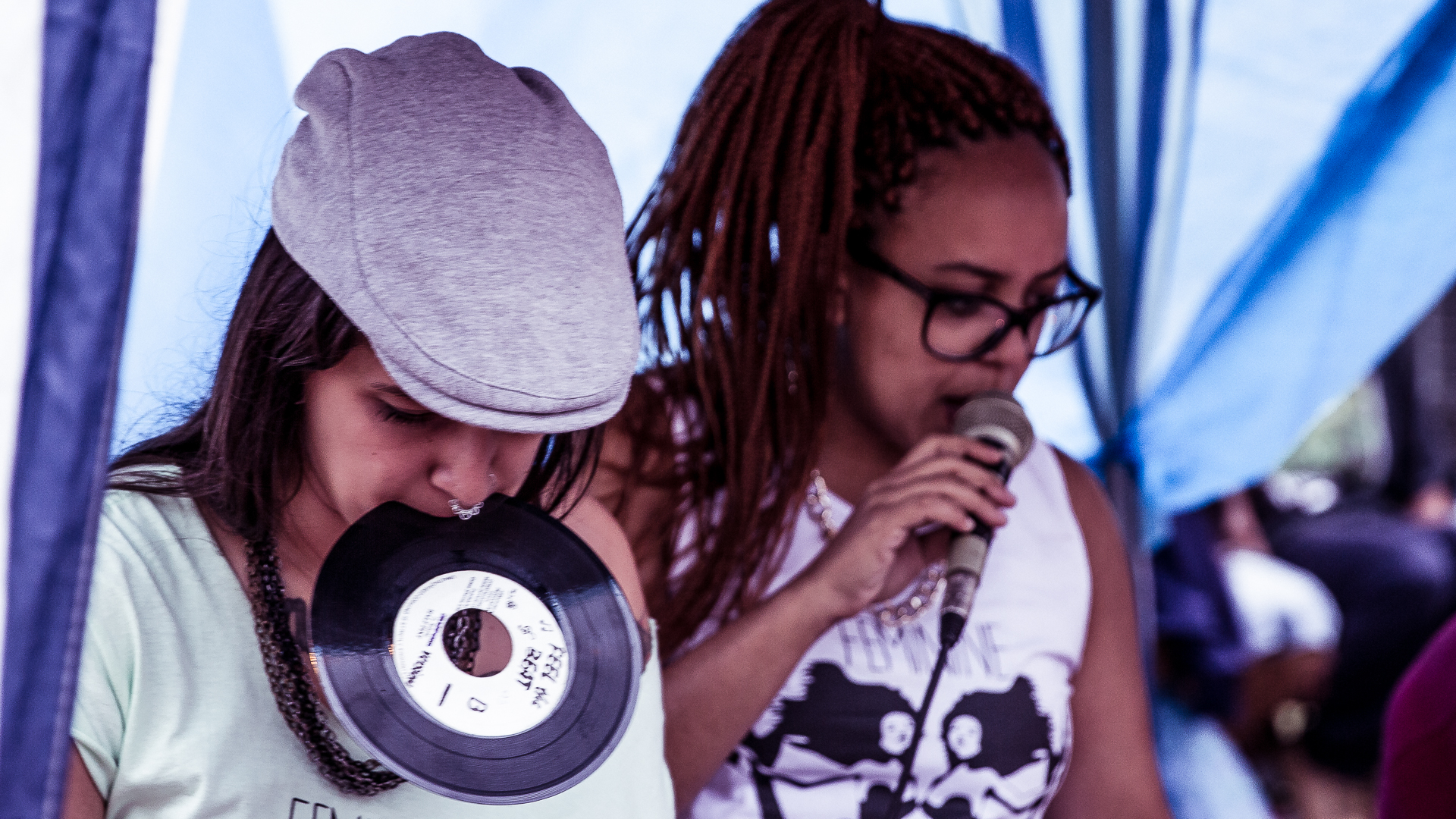 What's your most memorable show?
It was in January 2017 at the Tawai Dub Festival and Sesc Pompeia. Tawai was notable for the structure of the festival, which brought together ound systems and collectives from the country and abroad as well, in a model really inspired by the biggest international festivals. The lineup featured names like Channel One, Mad Professor and several Latin American artists too.
Sesc Pompeia was significant because we were able to bring sound system culture to a stage that is famous for hosting live performances by renowned musicians such as Kamasi Washington, Tony Allen, Marcia Griffiths, Barrington Levy, among many others. SESC is a Brazilian institution that welcomes and fosters all kind of cultural initiatives. It is one of the few places in Brazil that value the artist, especially the independent artist.
If Feminine Hi-Fi could go on the road anywhere in the world, where would it be?
Our idea is one day to be where our musical inspirations are, like Jamaica and Europe. And of course it's a great dream to be on the line up of major festivals like Dub Camp, Rototom, Nothing Hill Carnival, and so many others. We would also be very happy to attend music festivals around the world that are not exactly focused on reggae music, like the Womad, for example, among many others. We would like to have the opportunity to share the message of sound system culture with these places.
What is the Feminine Hi-Fi anthem?
It is "Loba Leoa", a song written and sung by Laylah Arruda who is also a founder and producer in Feminine Hi-Fi. She has been performing for years. This song tells a bit about the reality of women in the sound system scene in Brazil.